The cosmetic industry is a thriving growth sector worth a staggering $511 billion in 2022, and growing at a rate of 4.75%. By 2025 it is expected to reach $785 billion.
The cosmetic industry can be divided into four broad categories
       Cosmetics (or makeup)
       Skin care such as lotions
       Personal care
       Fragrances
While Personal care products represent the largest section across most retailers, cosmetic / makeup is the fastest growing increasing 32% between 2019 to the projected 2025 figures.
Unlike other industries such as food and beverage, the cosmetic industry is not really regulated against bad practices, such as testing cosmetics on animals or the use of plastic microbeads in products. Often the lack of regulation in various countries has led to consumer protests and targeted actions to force governments to prevent harm to people and animals, supporting best-practice and implementing bans in some countries.
There are a number of innovative and forward-thinking cosmetic brands that are helping pave the way for more sustainable beauty industry practices, such as Pacifica – who ethically source their ingredients and use post-consumer materials in their packaging, Saarinen Organics who grow their own ingredients on an organic farm and hand make their unique products and other sustainable and ethical companies who are cruelty-free, do not test on animals, and other non-harmful practices. But what about plastics used in and around the beauty products – how does a consumer tell between a product that has plastic-free ingredients, sustainable packaging and other important practices that are not guided by law?
We are here to help you. Plastic Collective is dedicated to educating and empowering people with knowledge, in order to reduce carbon footprints, eliminate plastic waste and prevent plastics entering our environment and ultimately the oceans.  Over the last few years we have been developing a range of online training modules which explore the Global Plastic Crisis, Material Knowledge of Plastics, Fugitive Plastics, Local Community Action Plans, Global Alignments & Solutions, as well as Resource Recovery Project Development.
In this series, we are exploring various industries in relation to plastic use and best practices from both the industry perspective, from their customers as well as the impact on the environment. To explore the Cosmetic Industry, this article will outline a number of key issues that brands and buyers can explore more in our online training course coming soon.
Industry Spotlight Series 1: Cosmetics and Plastics
DISTRIBUTION
Did you know that the Asia Pacific region represents almost half of the entire global cosmetic market with 46%?  The next largest share is North America with 24%.
MISMANAGEMENT
From the perspective of the environment and oceans, this is alarming because Asia also has the greatest mismanagement of tonnes of plastics, which enter the rivers and oceans – representing a whopping 80% of the global total!  Mismanagement simply means that there are few, to no waste management services available in many of these areas. Mismanagement of waste is also a contributing factor to climate change and GHG emissions.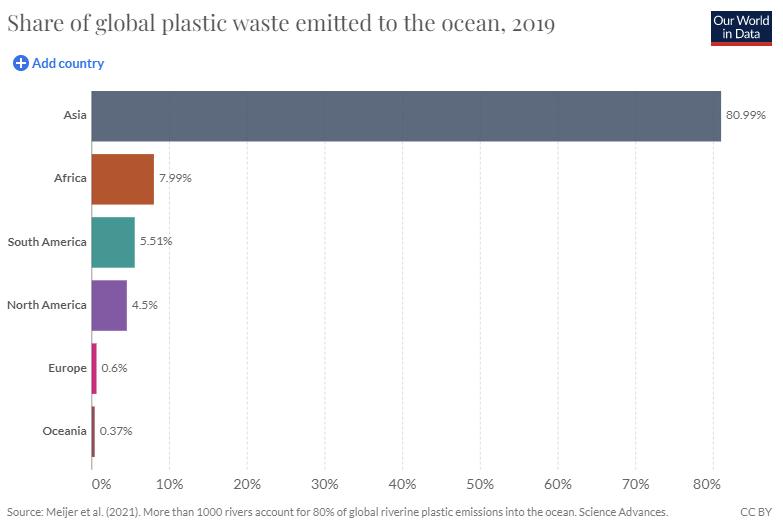 POLLUTION
Often in remote and poor communities where there are few services, people are forced to burn, bury in landfills or dump waste plastics such as plastic bottles and soft plastics into the environment.  This is called 'leakage' where the plastic pollution escapes into the environment and waterways, like a fugitive on the run towards the ocean.
80% of the entire world's plastic leakage into the ocean comes from Asia (see table below). 
Photo: (L) Remote island in Sabah Borneo. All waste is dumped on the beach for the tide to wash away.  (R) Nusa Lembongan, Bali. Half of all the local and tourist waste is burnt in the mangroves every evening.
LIFE CYCLE ANALYSIS
For companies that sell products in regional and remote areas where there is no waste management and high levels of pollution, it is important to consider product design and ingredients which will impact the health of entire communities.  Considering the full life cycle of plastic packaging for example involves first looking at where the product will end up. If products are sold in a country that has good recovery and recycling, the likelihood of a brand's packaging ending up in a turtle's stomach is quite low.
BUT, if their product is sent to a region with 2% recovery and 0% recycling – likelihood is it will end up on a remote beach half eaten by fish and broken into fragments that continuously harm all life that ingests it or smothers coral where entire ecosystems are dependent upon.
This is where Circular Economy redesign comes into play. Products should be design and developed with the end of life in mind, to do no harm. Lets explore this some more further on.
Key Cosmetic Industry Factors
There are 3 essential components that should be addressed when developing and selling products;
Ingredients
Primary packaging
Secondary / tertiary packaging
By considering a range of questions around Formula, Design, Degradation and Recover we can create a matrix of questions for cosmetic brands, product designers and buyers to consider.
Are there any 'poly..' ingredients? (typically a plastic form)
Does it contain 'Fragrance' (a strong & toxic smelling ether used in plastic manufacturing)?
What type of material is made from?
Does the packaging contain chemicals that fish and marine life will eat? (eg. ethers, colours, etc)
Is the secondary packaging biodegradable in the environment?
Does it contain phthalates? (softeners used in soft plastic manufacturing)
DESIGN
Does it contain plastic microbeads?
Can it be easily washed and reused?
Can it be refillable as a multi-use item ?
How many additional packaging layers are used?  Eg. postage
DEGRADATION
Are the ingredients harmful to aquatic life?
Will the material break into microplastics if subject to UV light?
Is the packaging light and easily blown away in winds?
RECOVERY
Can the ingredients be composted or naturally break down?
Is it recyclable?
Can it be made from post-consumer recyclable materials?
Are there any recovery/ recycling  programs in the areas the products are sold?
Do you have a return program?
In addition to exploring the above 3 areas, tools and equipment (such as sponges, applicators and other tools used in the cosmetic industry can also be included.)
Key Points of Interest
While exploring the above list of questions, businesses can be empowered with education through various training modules, such as material knowledge, global crisis and product development for a circular economy.
Here is a list of some product / environmental impact considerations when designing, developing and buying cosmetic and skincare products;
Micro-plastics were first used to replace sand, grit and chalk in face washes, body wash and toothpastes as a cheap, environmentally damaging alternative. Environmental groups and public protests created a movement to 'ban the bead' throughout the world, gradually forcing governments to make it law that microbeads should not be used in cosmetic products.  Some countries still use them – look for 'poly' in the ingredients, meaning 'long-chain' or more often 'plastic'.
PET, HDPE and PP are the 3 most common plastics in use. HDPE is typically used in many packaging containers as it is flexible and an easily recycled plastic. It has a global recycling rate of approx. 12%. In many Asian countries, HDPE and PP are more likely to be recycled if it is a plain white colour, not coloured.
Coloured lids are made from LDPE, HDPE or PP. These are polyolefins and will float. When at sea, they release a smell from the additives or colours that mimics krill and attract birds, fish and corals to eat them. They will break down into microplastics when exposed to UV and will also release harmful greenhouse gases – ethylene and methane.
Soft plastics or flexibles, are one of the more damaging plastics in the environment. Easily blown away, and having almost 0% recycling rate. Soft single use plastics will sink after a short time in the ocean when algae and microorganisms start to grow on them. They will carry pathogens and harmful marine organisms around the global currents, and can create coral cancer through spreading microbes and blocking sunlight to the corals and seagrass.
Plastics can be made with any organic material such as oil, gas (non-renewable organic carbon) or plants, algae, mushroom (renewable organic material). Certified compostable biodegradable plastics can replace harmful long-lasting fossil-fuel soft plastics with minimal impact on ecosystems.
Sustainable Beauty Alliance
Over the past few years, PC has been working with various companies on how to make more products and services more sustainable, ethically and environmentally compliant with the goal of eliminating waste and pollution.
Cosmetic beauty brands and their customers are an important product sector that is ready for change and seeking advice on how to do this. As a result, we have partnered with a number of companies and organisations to form the Sustainability Beauty Alliance (SBA), a collective of brands and communities who want to ensure the cosmetics industry thrives into the future and embraces Planetary Health, Ocean Literacy and Radical Collaboration.
Stay tuned to hear more, we would love your feedback and any ideas you may have…and you can also find out more about Plastic Collective and get latest news and info about Plastic recycling, clean energy and the effects of climate change, by subscribing to the Plastic Collective newsletter.